Braces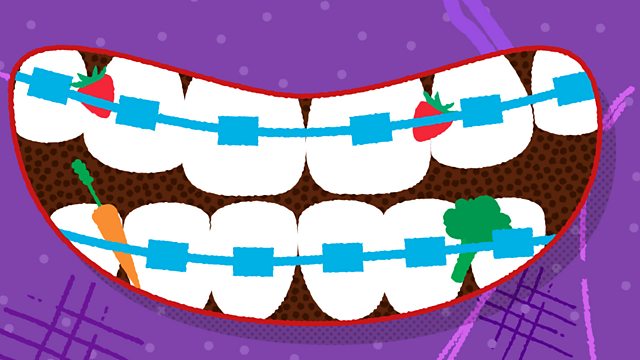 If you're about to get braces, you're probably wondering why they're so important, whether or not they'll hurt and how long you'll have to keep them. Get the answers here, plus info on eating with braces and cleaning your braces …
Over 202,300 people in the UK started orthodontic treatment 2014-15!
What are they?
Braces straighten crooked or overcrowded teeth.
There are lots of different types of braces, including see-through ones, white ones, and some that stick to the inside of your teeth.
They exert a steady pressure on the teeth to gradually realign them.
Why have I got to have them?
You'll get a beautiful smile. Your teeth will be easier to clean (clean teeth = less fillings = less falsies when you're older).
What will happen at the orthodontist?
The orthodontist is the braces expert. They'll probably take some X-rays, or some photos of your jaw. You may have to bite down on some mushy stuff or have your teeth scanned to record how your teeth come together.
Once you're fitted with a brace, you'll return for check-ups every month or so. The orthodontist may adjust the braces to keep the pressure on your teeth.
Will it hurt?
A little. For a few days after you first get a brace, and for a few days after each adjustment, your mouth may feel a bit sore. But nothing that a pain relief tablet can't handle. If a wire or bracket is rubbing, smearing on some Vaseline or wax should ease it.
How long will they stay in for?
Fixed braces usually stay in for between eighteen months to two years, but it varies. The longest ever recorded? 20 years. He forgot to go back.
Do I have to stop eating?
No. For a few days after they first go in, you may be advised to stick to soft food. The last thing you want is to dislodge them on a chunk of carrot.
How do I keep them clean?
Braces are like magnets for food. Not only does debris look alarming, but it can also accelerate decay. Clean thoroughly after meals and before bed.
Am I a freak?
No way. Over 202,300 people in the UK started orthodontic treatment in 2014-15 and more adults than ever before are having treatment – often through choice. So just sit tight, safe in the knowledge that you'll have a killer smile when they come off!
BBC Advice factfiles are here to help young people with a broad range of issues. They're based on advice from medical professionals, government bodies, charities and other relevant groups. Follow the links for more advice from these organisations.
BBC Advice 
http://www.bbc.co.uk/programmes/articles/3ysR0SgtXwfDxJQJ67H8pBZ/braces